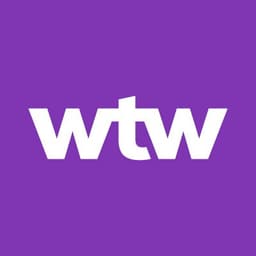 View all jobs at WTW
⛔️ WTW are no longer taking applications for this job.
Global Actuarial Consultant
As a Global Actuarial Consultant, you will provide consulting advice and services to multinational companies concerning retirement, HR benefits, and compensation issues globally. You will coordinate and manage multi-country projects, working closely with client headquarters, local country client contacts, and local WTW consultants.
You will serve as the project manager and day-to-day communication liaison with our clients, responsible for client deliverables, contributing to client management and new business activities, and participating in the creation of new intellectual capital.
The Role
Support senior consultants on large client engagements and lead smaller client engagements by leading the team on multi-country projects:

Draft statements of work, project plans, and budgets involving multiple workflow streams and client and consultant teams across the globe
Serve as the primary daily contact to clients located in headquarters as well as overseas offices concerning the delivery of services
Finalize and present quality deliverables to clients
Manage client expectations and raise appropriate issues to senior consultants

Establish a trusted advisor relationship with client contacts
Provide strategic consulting expertise in global retirement plan accounting, valuation, and design
Perform technical review of complex retirement valuations as well as other work products
Participate in special projects including mergers and acquisitions, benefit plan strategy and design, plan management and governance strategy, and global financing and funding policies
Support senior consultants penetrating the local and regional market and introduce new clients and projects to the firm and identify opportunities to cross-sell new products and services to meet annual revenue and billable hour goals
Contribute to the development of new tools and approaches, including monitoring and analyzing economic conditions in major markets around the world and updating country profiles
Demonstrate leadership ability by mentoring analysts
The Requirements
7+ years of experience delivering defined actuarial valuation work (ASC 715 or IAS19) and consulting services to multinational organizations is highly preferred, but will consider candidates with strong experience in corporate defined benefit and/or group health plans.
Experience working on global HR benefit programs; alternatively, experience working on domestic benefits or compensation programs and a demonstrated interest in international issues.
Proven experience successfully managing multiple projects and producing quality deliverables on time and within budget.
Strong client relationship, interpersonal, and team skills.
Bachelor's Degree required.
ASA designation required or equivalent international credentials; significant progress toward FSA or equivalent qualification highly preferred.
Experience living and working overseas and foreign language skills preferred but not essential
Compensation and Benefits
Compensation: The base salary compensation range being offered for this role is $110,000 – $145,000 USD. This role is also eligible for an annual short-term incentive bonus.
Company Benefits: WTW provides a competitive benefit package which includes the following (eligibility requirements apply):
Health and Welfare Benefits: Medical (including prescription coverage), Dental, Vision, Health Savings Account, Commuter Account, Health Care and Dependent Care Flexible Spending Accounts, Group Accident, Group Critical Illness, Life Insurance, AD&D, Group Legal, Identify Theft Protection, Wellbeing Program and Work/Life Resources (including Employee Assistance Program)
Leave Benefits: Paid Holidays, Annual Paid Time Off (includes paid state/local paid leave where required), Short-Term Disability, Long-Term Disability, Other Leaves (e.g., Bereavement, FMLA, ADA, Jury Duty, Military Leave, and Parental and Adoption Leave)
Retirement Benefits: Contributory pension plan and Savings Plan (401k). Certain senior-level roles may also be eligible for non-qualified Deferred Compensation and Deferred Savings Plans.
View all jobs at WTW
⛔️ WTW are no longer taking applications for this job.
From the blog
Expert tips on actuarial career growth and development.
You've aced the actuarial job interview and an offer is on the table – congratulations! But now, the real challenge begins: negotiation.
Actuaries never stop learning. There are loads of industry webinars and conferences out there, but I prefer reading blogs and listening to podcasts.
Over the past few weeks, I've spoken with lots of actuarial analysts who are pretty anxious about AI.