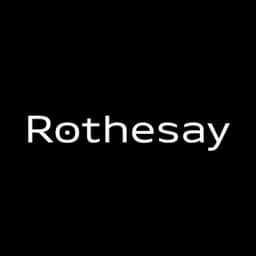 View all jobs at Rothesay
⛔️ Rothesay are no longer taking applications for this job.
Risk Actuary
Due to continued growth in the business, we are seeking to add a new permanent member to the team, who will work closely with the Chief Actuary to deliver the objectives of the team. This covers a range of second-line actuarial support, review, challenge and oversight.
This is a key second-line role which requires strong interpersonal skills and would suit a self-starter looking to broaden their knowledge and skills base.
The role is varied, looking across the entire risk landscape of the company, and the candidate will be expected to be proactive in developing the role and flexible in their approach to taking on new tasks.
Candidates from a broad range of actuarial backgrounds are welcome. The candidate should have recent actuarial experience (either a line 1 or line 2 role) and should be willing to learn and to provide support to a broad range of tasks. The successful candidate should be diligent and methodical and with a strong commitment to a robust control environment.
Provide risk validation support in relation to Rothesay's internal capital model
Perform a wide range of second line-actuarial reviews including:

Assessment of the adequacy of technical provisions
Review of pricing assumptions
Reviewing the adequacy of reinsurance arrangements
Reviewing models and methodologies
Oversight of first-line actuarial processes including in relation to matching adjustment, risk modelling and ALM

Supporting and ensuring strong model governance

Performing quarterly trigger assessments
Collating, reviewing and validating model changes
Data quality assessments

Directly contributing to the risk framework including risk appetite, ORSA, Recovery and Resolution plans
Assessing, measuring and communicating insurance risk
Performing ad hoc actuarial peer reviews
Reviewing and enhancing policies and frameworks
As a second-line role, communication skills are essential, including strong interpersonal skills and the ability to effectively provide feedback and challenge. This will include drafting reports and communicating with senior management and with relevant committees. The candidate is likely to gain exposure to a wide range of tasks and will be expected to be 'hands on'.
Skills and Experience Required
Required:

Qualified actuary or part-qualified actuary actively working towards qualification (for candidates with strong experience we will also consider those who have an actuarial background but are no longer actively working towards qualification)
Ability to communicate effectively and confidently with external and internal stakeholders at all levels of seniority
Understanding of (although not necessarily personal experience of) Line 2 actuarial role.
Strong analytical and numerical skills
Familiarity with Solvency II
Strong IT skills including use of Excel

Desirable:

No specific actuarial modelling software knowledge is required, however knowledge of spreadsheet modelling is highly desirable and other hands-on modelling experience would be preferred
Experience of working as part of wide teams and for or with second and third line
Experience of communicating results to a senior audience
Bulk annuity, longevity or pensions experience
Financial reporting experience
Core competencies:
Self-sufficient, able to work independently
Technical Skills - Demonstrates strong technical skills required for the role, pays attention to detail, takes initiative to broaden his/her knowledge and demonstrates appropriate analytical skills
Drive and Motivation – Be a self-starter; successfully handles multiple tasks, takes initiative to improve his/her own performance, works intensely towards extremely challenging goals and persists in the face of obstacles or setbacks
Teamwork – Demonstrate evidence of being a strong team player, collaborates with others within and across teams, encourages other team members to participate and contribute and acknowledges others' contributions
Communication Skills - Communicates what is relevant and important in a clear and concise manner and shares information/new ideas with others
Judgement and Problem solving - Thinks ahead, anticipates questions, plans for contingencies, finds alternative solutions and identifies clear objectives. Sees the big picture and effectively analyses complex issues
Creativity/Innovation - Looks for new ways to improve current processes and develop creative solutions that are grounded in reality and have practical value
Influencing Outcomes - Presents sound, persuasive rationale for ideas or opinions. Takes a position on issues and influences others' opinions and presents persuasive recommendations
About us
Rothesay is a UK insurance company purpose-built to protect pensions. We are the largest specialist pension insurer in the UK, managing over £47bn of assets and securing pensions for over 800,000 people. We secure pensions for over 170 pension schemes and insurers including British Airways, Post Office, Asda, National Grid and Aegon.
At Rothesay, we are striving to transform our industry. We believe deeply in creating real security for the future and our leadership in finding new and better ways to do that is the key to our success. To do that, we need the very brightest original thinkers to bring creativity as well as rigour. Rothesay is a rewarding place to work, where quality people can thrive and prosper. We pride ourselves on the connections our people build, many of whom have been with us for over ten years.
Inclusion
Rothesay actively promotes diversity and inclusivity. We know that our success depends on our people and that by nurturing a culture that values difference, we create a stronger, more dynamic business. We welcome applications from all qualified candidates, regardless of race, colour, religion, gender, gender identity or expression, sexual orientation, national origin, genetics, disability or age.
View all jobs at Rothesay
⛔️ Rothesay are no longer taking applications for this job.
From the blog
Expert tips on actuarial career growth and development.
Actuaries never stop learning. There are loads of industry webinars and conferences out there, but I prefer reading blogs and listening to podcasts.
Over the past few weeks, I've spoken with lots of actuarial analysts who are pretty anxious about AI.
Being an actuary isn't the 9-5 job that everyone thinks it is. At some point in your career, you'll probably feel like you're approaching burnout.