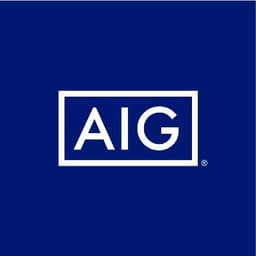 View all jobs at AIG
⛔️ AIG are no longer taking applications for this job.
Global Head of Pricing MI & Analytics
About the team
We are in the foundational stages of building out AIG's Global Pricing area and are hiring our senior leadership team. This newly established team will have accountability for the quality and effectiveness of AIG's pricing function across all lines of business and geographies.
About the role
This critical role will be responsible for the oversight of pricing MI and analytics, modernizing pricing's data visualization capabilities, and establishing databases for pricing parameters and metrics. It will also become a key connection point between actuarial and the AIG data office on pricing data initiatives. We are seeking an actuarial professional with deep industry expertise and proven experience in developing data solutions to enhance decision making. The Global Head of Pricing MI and Analytics will report into the Chief Actuary, Global Pricing.
Oversight of the team responsible for the monthly production of official pricing MI, which includes rate monitoring, exposure monitoring, rate adequacy, and new versus renewal reporting. Expansion or enhancements in capabilities to be scoped and prioritized by this role.
Monitoring, identifying, and sharing key trends and messages with stakeholders, including escalating concerns appropriately and feeding into oversight plan.
Ownership of global definitions for key metrics to monitor global pricing.
Establishing framework for longer term department-wide MI vision & platforming. This includes determining the core set of reports and tools that are used to monitor pricing, allowing for efficient roll-up / drill-down capabilities.
Maintaining and streamlining pricing databases containing pricing parameters and metrics.
Serve as a key connection point between pricing actuaries and the AIG data office on data initiatives.
Supporting initiatives to improve data usability – data quality initiatives, data enhancement techniques, anomaly detection, collation of data for predictive modelling / machine learning.
Use of external and third-party data to augment our own.
A focus on continually enhancing and modernizing our capabilities to deliver pricing metrics to senior management across AIG. Horizon scanning across AIG, identifying areas for improvement as well as opportunities to scale up solutions that have been originated locally.
About you
We are looking for an individual who is internally motivated, intellectually curious, has the ability to manage multiple priorities, and is driven to enhance existing processes. The candidate should possess strong technical and business expertise with a strong understanding of actuarial system design and data interactions. We are looking for someone with a proven track record in delivering pricing insights to management in an efficient and effective manner.
Credentialled Actuary (Fellow or Associate) belonging to a globally recognized Actuarial Society (CAS or IFoA) with at least 15 years of pricing experience.
Experience in senior GI actuarial roles, including pricing and team management.
The ability to conceive and develop analytical products and processes, as well as the capability to see them through to deployment and adoption, are critical to success.
Familiarity with and ability to manage a team of people using modern data and reporting technologies and architectures including SQL, cloud-based data warehouses and data lake tools, dashboarding solutions (e.g., PowerBI or Tableau), and programming tools (R, Python, etc.)
Strong relationship building skills, with the ability to influence others and drive a process to a conclusion while meeting critical deadlines are critical to success.
Exceptional communication skills, including ability to develop and present clear and concise recommendations to senior management.
Ability to dive into technical and execution level details, do hands-on work, connect the dots while thinking strategically.
Ability to roll-out new initiatives, proactively engage and negotiate with senior actuarial stakeholders, challenge existing processes, and resolve conflict.
Willing and able to continuously learn and adapt in a dynamic and fast changing environment.
Comprehensive awareness of the business, regulatory environment, competitors, market cycle, technology, and legislative trends.
Timeliness and attention to detail.
About AIG
American International Group, Inc. (AIG) is a leading global insurance organization. Building on 100 years of experience, today AIG member companies provide a wide range of property casualty insurance, life insurance, retirement solutions, and other financial services to customers in more than 80 countries and jurisdictions. These diverse offerings include products and services that help businesses and individuals protect their assets, manage risks and provide for retirement security.
General Insurance is a leading provider of insurance products and services for commercial and personal insurance customers. It includes one of the world's most far-reaching property casualty networks. General Insurance offers a broad range of products to customers through a diversified, multichannel distribution network.
As an actuary at AIG, you will be challenged and encouraged to reach your greatest potential. Every day will bring new opportunities to stretch your analytical and problem-solving skills as you improve how we predict and mitigate risk. Our Financial Actuaries are on the frontlines, quantifying risk, pricing insurance and reserving losses for AIG's major regulated and rated insurance operating companies globally. Portfolio Analytics and Pricing Actuaries support AIG's businesses and are responsible for technical pricing, product development analytics and performance measurement.
Benefits
We're proud to offer a range of employee benefits and resources that help you protect what matters most - your health care, savings, financial protection and wellbeing. We provide a variety of leaves for personal, health, family and military needs. For example, our "Giving Back" program allows you to take up to 16 hours a year to volunteer in your community. Our global mental health and wellness days off provide all colleagues with a paid day off to focus on their mental health and wellbeing.
Equal opportunities
American International Group, Inc., its subsidiaries and affiliates are committed to be an Equal Opportunity Employer and its policies and procedures reflect this commitment. We provide equal opportunity to all qualified individuals regardless of race, color, religion, age, gender, gender expression, national origin, veteran status, disability or any other legally protected categories such as sexual orientation. At AIG, we believe that diversity and inclusion are critical to our future and our mission – creating a foundation for a creative workplace that leads to innovation, growth, and profitability. Through a wide variety of programs and initiatives, we invest in each employee, seeking to ensure that our people are not only respected as individuals, but also truly valued for their unique perspectives.
AIG is committed to working with and providing reasonable accommodations to job applicants and employees with physical or mental disabilities. If you believe you need a reasonable accommodation in order to search for a job opening or to complete any part of the application or hiring process, please send an email to candidatecare@aig.com. Reasonable accommodations will be determined on a case-by-case basis.
View all jobs at AIG
⛔️ AIG are no longer taking applications for this job.
From the blog
Expert tips on actuarial career growth and development.
Over the past few weeks, I've spoken with lots of actuarial analysts who are pretty anxious about AI.
Being an actuary isn't the 9-5 job that everyone thinks it is. At some point in your career, you'll probably feel like you're approaching burnout.
Starting a new job can be pretty scary, especially if it's your first actuarial role. But don't worry, we're here to help.