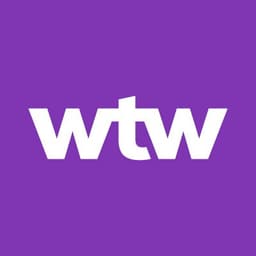 View all jobs at WTW
⛔️ WTW are no longer taking applications for this job.
Graduate Analyst (Life Insurance)
Our Business
In Insurance Consulting we advise and provide solutions to insurance companies on the quantification and management of risk, and on wider operational capabilities, to provide competitive advantage in a rapidly changing world. Our client base includes more than three-quarters of the world's leading insurers across both life and property/casualty insurance.
The Role
A role in Insurance Consulting is stimulating, challenging, exciting and extremely rewarding. We require associates who are technically and mathematically minded, with the ability to solve complex and challenging commercial problems using innovative and proportionate approaches.
As consultants, it is necessary to build a strong technical skillset but also the ability to communicate complex concepts to audiences from a variety of backgrounds. We deal with actuaries, accountants, underwriters, technologists, data scientists, insurance entrepreneurs, senior executives and other Board members. Each audience has different needs and knowledge, and we need to tailor our communications to suit.
We are looking for candidates who are excellent in their own fields and are able and driven to apply their knowledge and skillsets to work with clients to support them in delivering their strategy and objectives.
What will I be doing day to day?
As a project-based advisory business, no two days are the same. Our graduates will experience this work variety immediately and see this continue as their careers develop.
Graduates will tend to be involved in multiple client projects at any one time, working on each with the support and guidance of an experienced consultant. You will be involved in regular project meetings which will help you to understand the business context and project objectives, and where your contribution fits in, as well as providing a space for you to report your progress.
You may also be involved in communicating with client stakeholders, working directly alongside clients or joining meetings/calls discussing progress or sharing deliverables.
A key difference at WTW is that we have our own set of Insurance Technology Solutions which are widely adopted within our client base. You will become familiar with these products, and in demonstrating to or training clients, and in developing new propositions or solutions based on these products. If you are interested in technology, there will be opportunities to collaborate with our Technology colleagues to develop our software products and combined consulting and technology solutions for our clients.
Our graduates receive broad training during their first few months with WTW, which supplements a steep curve of on-the-job learning.
Career path and study support
The learning curve in the first few years is challenging as you grow your understanding of the insurance markets, our clients, products and propositions, whilst at the same time developing broader consulting skills and knowledge of actuarial techniques.
As you progress, you will get more deeply involved in supporting research and product development. We pride ourselves in remaining ahead of the game in our market – we need to know the next client issue or driver of change before it happens – and so we invest heavily in product and service development.
You may also be responsible for selling projects and managing content and delivery in order to ensure the best solutions for our clients' problems, on budget, on time and to the highest quality. 
Graduates will have the opportunity to sit the professional exams that best align with their career aspirations. These can be either from the Institute and Faculty of Actuaries or from the CFA Institute. WTW offers a substantial and flexible study support package that includes:
Membership fees for the relevant professional body
Cost of any study materials you need including tutorials, notes etc. 
Cost of sitting each exam and a re-sit attempt
Generous study leave
Requirements 
2:1 degree in a numerate discipline OR 
2:1 degree in a non-numerate discipline plus A-Level Maths at grade A/B (or equivalent qualifications)
The Application Process
Stage 1: Online application, including CV
Stage 2: Invitation to complete online assessment and a video interview.
Stage 3: Virtual Assessment centre – this is an opportunity for you to meet with members of the team and for the team to understand your strengths, preferences and motivations.  The assessment will take place virtually, and there will be an opportunity for you to ask questions.
Stage 4: Offer and on-boarding
Start date for the UK Graduate Programme will be the beginning of September 2023. For Masters/PhD students, we can be flexible on the start date depending on course dates.
WTW is an equal opportunity employer
WTW believes that effectively managing a diverse workforce is vital to our business strategy. We have an obligation to our organisation, ourselves and our clients to hire and develop the best people we can find. We will continually review our policies and practices to ensure that all areas of the employment process (including recruiting, hiring, work assignments, compensation, benefits, promotions, transfers, company-sponsored development programs and overall workplace experience) are free from discriminatory practices. We are committed to equal employment opportunities at WTW.
Why work at WTW?
WTW offers a variety of benefits to support your physical, emotional and financial wellbeing, as well as help you develop in your career, and balance your life inside and outside of work. Among other things, these include WTW Work Flex, shared parental leave, a range of Learning & Development (L&D) opportunities and a competitive pay and benefits package (which includes Private Medical Insurance and Life Insurance).
WTW Work Flex
At WTW, we see things differently. We understand flexibility is key to supporting an inclusive and diverse workforce and so we have a variety of different working arrangements which we call "WTW Work Flex". We encourage colleagues and candidates to make requests for the types of flexible working arrangements that suit them.
View all jobs at WTW
⛔️ WTW are no longer taking applications for this job.
From the blog
Expert tips on actuarial career growth and development.
Managing a team of actuaries can be difficult. You need the right balance of technical and soft skills to lead a team that's productive, engaged and motivated.
Actuary Exam Bot was an AI tool that I launched in January 2023 to help trainee actuaries study and revise for exams.
The actuarial profession is growing quickly and competition for jobs is high.