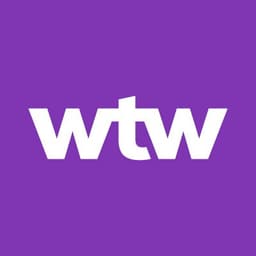 View all jobs at WTW
⛔️ WTW are no longer taking applications for this job.
Internship (Retirement Consulting)
The Business
With roots dating to 1828, WTW has 44,000 employees serving more than 140 countries. WTW is the leading provider of retirement consulting and actuarial services to today's global organisations, providing actuarial services to more of the world's top 300 pension funds than any other company.
In the UK and Europe, we are the undisputed leader, advising 75 of the FTSE 100 companies.  We also advise small and mid-sized schemes, with the range of clients providing our colleagues with a broad range of opportunities. Our enviable client list covers a very wide range of companies including household names, financial institutions and charities.
We partner with clients around the globe to determine the best approaches to pension scheme design, funding, governance, administration and communication.
The Team
The Retirement team works with trustees and sponsors of occupational pension schemes. We advise on both defined contribution ("DC") and defined benefit ("DB") schemes: our intern vacancies are within the DB team. The DB team helps our clients with all aspects of managing a pension scheme, from regular triennial valuation work, to cutting edge risk-reduction and scheme design projects.
We often work closely with our colleagues in other teams, such as DC, investment, communications and administration, to provide joined-up advice to our clients. We work in partnership with our clients to help them to manage the potentially substantial risks involved with retirement benefit provision and to ensure that their benefits meet the needs of all stakeholders.
The Retirement team is the largest recruiter of graduates in WTW's Human Capital and Benefits Line of Business.
The Role
Our Intern Programme is designed for penultimate year university students.  It is currently expected that the duration of the internship will be 8 weeks, but this may be subject to review depending on the working situation nearer the time. 
An internship at WTW will give you valuable real-world experience. It will enable you to apply your education in an environment that is both intellectually challenging and rewarding. At the end of your time with us, you will have a greater understanding of what we do and how closely our career offerings match your career ambitions.
You will be treated in the same way as our new trainee consultants, receiving the same quality and quantity of work. It is the perfect opportunity to understand what you could expect if you joined our trainee consultant programme the following year, and many of our interns return as permanent team members following graduation.
As an intern in the Retirement team, you'll need good numerical and communication skills, the ability to plan work effectively and a strong desire to solve challenging, technical problems. You'll develop consulting skills so that you can help clients understand and manage their pension risks.
Trainee consultants and interns at WTW benefit from all the resources and opportunities that a large company can provide, but this doesn't come at the cost of individuality. You will have the opportunity to work alongside some of the leading figures in the pensions industry and also to be recognised for your personal contribution.
Regardless of which of our offices you join, you'll be part of the bigger WTW community, and will be able to contribute to our fundraising and community activities, as well as our sporting and social groups (many of which have continued while colleagues have been working from home). We are committed to cultivating an inclusive work environment, enriched by our people, our clients, and the communities in which we work and live.
Learning and Development
We are committed to providing continuous professional development to all of our colleagues. For interns specifically, we provide:
An induction process where you can learn what our business does, what resources are available, and who the other new interns are
On-the-job experiences allowing you to see the immediate impact of your work
Opportunities to work on a diverse range of projects with experienced professionals
The Requirements
Minimum 2:1 degree in a numerate discipline OR
2:1 degree including A-Level Maths grade A/B or equivalent qualifications
Penultimate year students
The Application Process
Stage 1: Online application, including CV
Stage 2: Invitation to complete online assessment and a video interview.
Stage 3: Virtual Assessment centre – this is an opportunity for you to meet with members of the team and for the team to understand your strengths, preferences and motivations.  The assessment will take place virtually, and there will be an opportunity for you to ask questions.
Stage 4: Offer and on-boarding. Start date for the UK Internship Programme will be the beginning of July 2023.
WTW is an equal opportunity employer
WTW believes that effectively managing a diverse workforce is vital to our business strategy. We have an obligation to our organisation, ourselves and our clients to hire and develop the best people we can find. We will continually review our policies and practices to ensure that all areas of the employment process (including recruiting, hiring, work assignments, compensation, benefits, promotions, transfers, company-sponsored development programs and overall workplace experience) are free from discriminatory practices. We are committed to equal employment opportunities at WTW.
Why work at WTW?
WTW offers a variety of benefits to support your physical, emotional and financial wellbeing, as well as help you develop in your career, and balance your life inside and outside of work. Among other things, these include WTW Work Flex, shared parental leave, a range of Learning & Development (L&D) opportunities and a competitive pay and benefits package (which includes Private Medical Insurance and Life Insurance).
WTW Work Flex
At WTW, we see things differently. We understand flexibility is key to supporting an inclusive and diverse workforce and so we have a variety of different working arrangements which we call "WTW Work Flex". We encourage colleagues and candidates to make requests for the types of flexible working arrangements that suit them.
View all jobs at WTW
⛔️ WTW are no longer taking applications for this job.
From the blog
Expert tips on actuarial career growth and development.
The actuarial profession is growing quickly and competition for jobs is high.
Recruiters can be a valuable tool for finding actuarial jobs. Let's discuss what recruiters can do for you, things to look out for and how to make the most of recruiters to find your next actuarial job.
Most actuaries overlook soft skills - even though they're arguably more important for your life and career.